Buy Elizabeth's LP, Folk blues for Appalachian dulcimer and guitar
About Elizabeth Butters
"I feel that there's a little bit of hope in acknowledging the sad aspects of life." —Elizabeth Butters
One part Bonnie Parker, one part Maybelle Carter, two parts Addie Pray (or, as a friend more concisely described her, "the adorable singer girl with the shotgun"): that's Elizabeth Butters.
Elizabeth performs mostly traditional and folk songs, but has an untaught (and probably unlearnable) ability to take old sounds, make them sound new, then make them sound old all over again, by threading them through her own identity, which is deeply rooted in the past.
Some people react to folk music—or even to the mere term itself—as if if they'd like to re-enact Belushi's response in Animal House. But this ain't your "I Gave My Love A Cherry"-type stuff. Vocal histrionics are often passed off as soulfulness, but at the heart of Elizabeth's plain-tone singing you'll recognize genuine passion.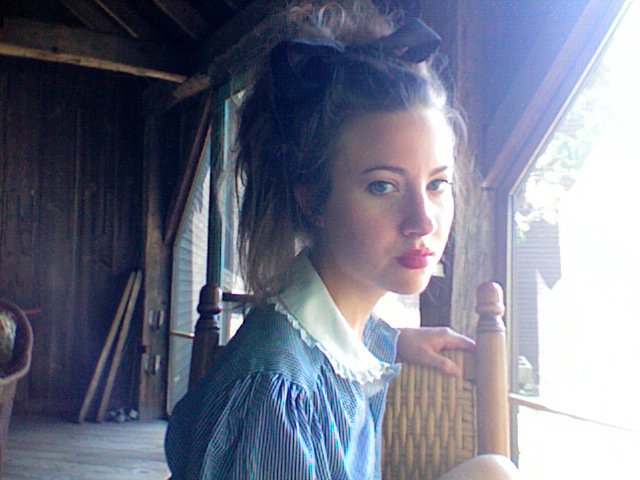 Though her repertoire shows a strong mindfulness of mortality, she never comes across as morbid. And how wouldn't songs of melancholy, mayhem, and murder—whether plaintive blues or Appalachian murder ballads and death songs—be augmented by the agreeable incongruity of a guileless, honey-caramel voice?
The sorrow you'll hear in that voice is real, not forced or fake, and Elizabeth's love of the past is in no sense a pose. Affectation just doesn't seem to be in her nature. (Her MySpace name, winslowhealthandhygieneseries, should give you some indication of her preoccupations.) The antiquarian and documentarian impulses she pursues began as a bulwark against her fear of a (hypothetical) onset of dementia, as if Elizabeth wanted to leave herself clues she could use to mentally piece herself back together. She strives to be faithful not only to a period's music but also to its look. She brings to her work an archivist's love of authentic clothing. Even her Halloween costumes are vintage. Her whole demeanor and presentation approach performance art (but in a good and genuine way).
Despite Elizabeth's obviously heartfelt wistfulness, listening to her sing is the opposite of depressing. If you're like me, she'll often make you smile or laugh. Some old philosopher or other once said something about the reconciliation of opposites, and listeners to Elizabeth Butters are likely to find themselves fascinated by the tension between her cheerful, unaffected voice and the seemingly morose and gruesome subject matter of some of the songs. Her enunciation and her New Hampshire accent give her an apparent innocence, even on, for example, the blue notes of "Crow Jane." Elizabeth has said she'd love to be a circus trick rider, and her voice somehow pulls off the trick of simultaneously riding Innocence and Worldweariness, who might want to travel in opposite directions but instead are guided wherever she wants them to go. It's no surprise that this is the voice of someone who collected old records as a child, and who would grow up to share stages with Jim Kweskin, Spider John Koerner, Peter Stampfel, John Cohen, Jeffrey Lewis and others.
Elizabeth brings something fresh to each arrangement, and she is not timid in her interpretations. Her slowed-down treatment of "Swing and Turn," coupled with her straightforward reading of it, give the song's playfully odd lyrics an almost eerie cast, and in her rendition of the a capella "Skin and Bones," the part that's traditionally meant to be scary is funny, and instead it is her humming that comes across as chilling. If she were singing at a medicine show, I'll wager many of us would buy whatever patent remedies her voice advised us to. There's a seldom-acknowledged artistry to the choosing of songs to perform, and I'm tempted to say that if these songs could sing themselves, this is how they would sound.
Elizabeth Butters is a special voice, like no other performer I know, folk or otherwise. Anyone who has the idea that I'm giving out too freely in my praise is invited to take that impression as a challenge to give Elizabeth Butters a listen.
(Doc, DeuceOfClubs.com)
Buy Elizabeth's LP, Folk blues for Appalachian dulcimer and guitar